Big Brother, #BBNaija house was today filled with surprises as Bisola and Bally returned to the house escorted by popular TV host, Ikponmwosa Osakioduwa also known as IK, dressed in a Ninja outfit.
IK walked in as a Ninja with Bisola and Bally who have been away from other housemates since Sunday, on faked vacation in "Paradise.''
Little did the housemates know it was IK until he unmasked himself on the on-going TV reality series.
Housemates went into a frenzy realising that the Ninja was IK.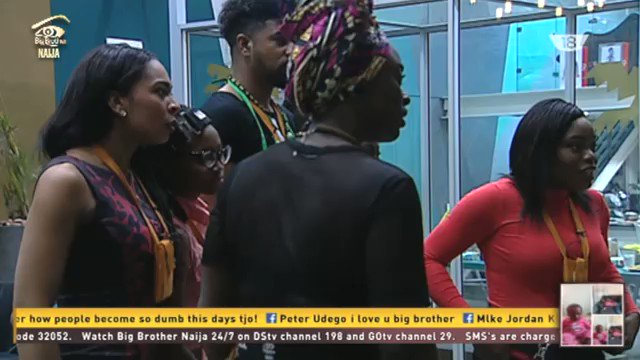 After chatting with IK, the housemates could not let him leave without taking parting selfies with ThinTallTony (TTT) acting as the camera man.
IK, a one-time host of the Big Brother show, is the eight celebrity guests in the #BBNaija house.
Meanwhile, has TTT been working his way back to Bisola as she returns to the house.
It will be recalled that Bisola and TTT were romantically linked before the fake eviction by Biggie.
Though Bisola was giving him the cold shoulder initially, they later got talking and when Bisola told him they showed her and Bally everything going on in the house he felt uncomfortable.
While away in paradise, TTT got closer to Tboss and even begged her for early morning kiss.
NNN.COM.NG is a portal where you can read latest Nigeria News from all Nigeria Newspapers such as such as Punch, Vangaurd, Daily Times, Thisday, Guardian, Nation, Leadership and more in one place. NNN aggregates Naija News and sort them according to their sources, category and relevance as a way of reducing the effort a news reader needs to put in to reading breaking news in Nigeria and across the world.